HI! WE'RE LARISSA & TAMI
We're the designers behind East to West Studio. We're friends, we're mothers, we're wives, we're sisters in Christ. We delight in obsessing over your wedding invitation and suite, working directly with you to perfect every detail. Your invitation is such a vital part of your big day and often the first impression guests will receive. We especially enjoy using our God-given talents to support the most important institution God himself designed: marriage.
MEET TAMI
Tami and her husband Michael recently moved out to the country of rural Illinois, and with her two children, her 100-year old Farmhouse, and sunsets every evening, she is realizing this is the life she dreamed as a twelve-year old girl. A child of God, Tami strives to live out her Faith daily, not just with her family and friends, but with East to West as well. Tami loves juggling her watercoloring, emailing of clients, marketing, and designing with her cooking, cleaning, gardening, gathering, and hosting.  She loves her life with Michael, and can not think of anything more satisfying than playing a role in the gift of marriage by designing invitations for others. She firmly believes that entering into this business endeavor with Larissa was God's will in her life,. Thanks for stopping by!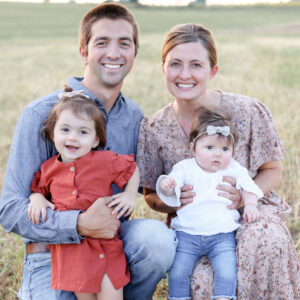 MEET LARISSA
Follower of Christ, wife to Eli, mother to Alaya and Addison. To Larissa, these are the most important roles she will ever play. On top of these blessings, she gets to design invitations, write calligraphy, and watercolor florals for East to West. Larissa started East to West Studio with Tami, while in college working towards her degree in graphic design. Aside from designing and being with her family, Larissa enjoys coffee, reading a good book, jogging (short distances), and journaling.