East to West started with two friends who both had a passion for design and a love for God. Originally, we lived directly two hours east to west from each other on U.S. Route 24, but now live only fifteen minutes apart. We love using our God-given talents to design beautiful work and to build lasting relationships.
Tami began East to West with Larissa as a junior at Illinois State University, eventually graduating with her Bachelor's Degree. Today, she is a stay-at-home wife to Michael and a mother to two little girls, Aria and Jade, while still working (almost!) full-time designing and creating. She has a passion for her relationship with Jesus and loves to share it with others through East to West. All glory to God for the gifts He has given her!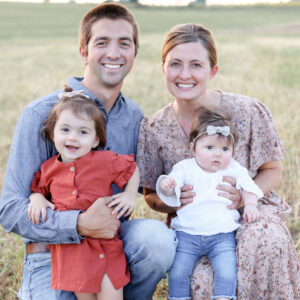 Larissa grew up alongside four sisters, being creative with them on the family farm. While she's no longer building cat houses, setting up banks, or choreographing made-up music videos, she is still a creative at heart, loving anything to do with pencils and paint brushes and creating beautiful (+ practical!) goods. Larissa is mom to 2 precious girls, Addison and Alaya, and is married to her favorite guy ever: Eli, who forever keeps her laughing and is her constant support. Besides designing & creating and spending time with her family, Larissa enjoys drinking coffee, reading a good book, decorating her home, and spending time with God. Larissa graduated with a degree in graphic design while working with Tami to start up East to West.